Types of Powder Coating
info you need to know
What powder should I use for my project?
There are many different types of powders to choose and questions you need to ask yourself:
Will the part be exposed to the weather (rain, snow, water, UV)?
If so, you will need to be sure you protect your parts from the elements based on what your coating.  
 Part preparation will be the most important part of any powder project, but you will need to make sure that the powder you use will prevent rust, corrosion, flaking, or even powder failure. Now, what powder you select is equally as important to preventing problems down the road.  
| | | | | |
| --- | --- | --- | --- | --- |
|   | Epoxy | Polyurethane | Polyester | Hybrids |
| Corrosion/Chemical Resistance | Excellent | Very Good | Very Good | Very Good |
| Hardness | Excellent | Fair | Good | Very Good |
| Flexibility | Excellent | Excellent | Excellent | Excellent |
| Low Temp Cure | Excellent | Fair | Good | Very Good |
| Over Bake Stability | Fair | Very Good | Excellent | Good |
| Exterior/UV Stability | Poor | Excellent | Excellent | Poor |
Epoxies (AKA Primer)
Get use to using epoxies as your base coat for most outdoor parts or projects. These will ensure a good barrier to the elements and give you long lasting part stability. Epoxies were the first widely used powder coating powders and are usually coated in a dual layer process to achieve optimal corrosion resistance and meet specific weather and appearance requirements. A second coat is then applied over the epoxies to the color and finish you desire. On occasion, we offer a third top coat layer for improved aesthetic appearances or provide more scratch resistance. Most primers are epoxy based and are listed in the first column above. 
Notice the poor UV stability of the above epoxy, but excellent corrosion and chemical resistance. Therefore, never use an epoxy as a top coat for any parts that will be in the sun. UV light breaks down epoxy and over time the coating will surely fail, yellow and chalk. Always cover an epoxy with another coating that will protect it from the sun.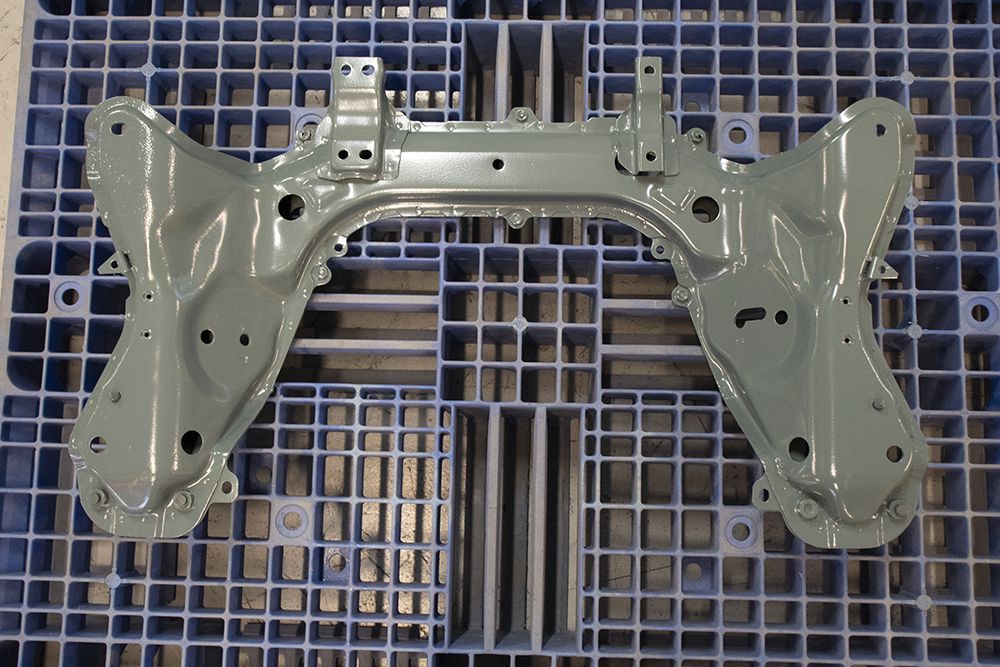 Polyesters
The most commonly used powder coating powders that offers excellent exterior UV stability and is good to very good in most other characteristics (see chart above). Polyesters are the work horse of most powder coating shops due to the versatility and usability across many different situations. There are many different combinations of polyesters to improve upon the already good to excellent properties the powder offers. Polyesters can be combined with an epoxy to form a hybrid which give you better UV stability, and at the same time, properties to withstand the outdoor environment. Different ratios of epoxies and polyesters can be combined to emphasize the characteristics of either the polyester or epoxy. How about a super durable polyester? Well these powders, as the name implies, offer superior durability when compared to standard polyesters. Super durable powders hold the gloss and color longer and have better outdoor stability.